About UsFrigate Teknologies Private Limited
is a
Faridabad, Haryana (India)
, based business organization that is committed to sheer excellence for producing
Fuel Handling System, Industrial Bucket Elevator, Damper
and other products.
Ours is a diversified global conglomerate that is indulged in integrated designing, engineering, sourcing, construction & project managing in industries such as Cement, Energy, Mineral Processing, Aviation, Steel Marine and others. We are active in performing Rational Processes wherein we keep customers requirements, expectations, budget and related things in view.
We collaborate with the best companies of various industries to complete turnkey plants. From concept to commissioning, we do it all expertly and ensure satisfaction of highest order is provided to our customers.
Using cutting edge technology, we manufacture quality products and serve them in markets, worldwide. We are accepted in the global market as a
manufacturer, service provider, supplier and exporter
. We are a specialist in rendering
Engineering Service, Procurement Service
and
EPC Services
such as
Civil Work Services, Erection And Installation Services and Display Real Testimonials Services
. We, since our establishment, have been successfully handling different and urgent projects of various industries.
VMV (Vision - Mission - Values)Vision
To be a customers first choice for sourcing hi-tech and precision engineered products.
Mission
To delivery cost-effective and high in quality products at scheduled time.
Values
To always have a 'Can Do attitude with us to promote customers and company's welfare.
Our Sister Concern
Flair Technik Inc. is our sister concern company that is based in Delhi (India). Our sister concern is committed to offer Belt Conveyors, Silo Systems, Deep Pan Conveyors, and similar products that find great use in construction, automobile and other industries. Committed to sheer perfection, our sister concern is making innovation and technology play lead roles in all products.
Our Policies
Quality Policy: We are committed to render quality products and services to our customers with promise of assured and benefiting returns.
Environmental Policy: We are committed to reuse materials to cut down filling of landfills with waste materials. Also, we are committed to provide a healthy workplace to our skilled workforce.
Community Affairs Policy: We are committed to respect our customers and maintain ethical deals with them.
OHS Policy: We keep health and safety of employees at priority which is why we ensure improvement in risk minimization and handling.
CSR Policy: We know our corporate social responsibility which is why we maintain high standards during production and ensure excellent employee benefits.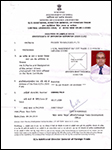 Read More